Crystal Cruises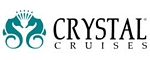 Welcome into the fascinating world of Crystal Cruises. At sea and ashore, they share their passion for discovery and have created itineraries that showcase the world and all its glory, from favorite must-see destinations to undiscovered gems of rare beauty. A careful balance of onboard enrichment and shoreside adventure is combined to create the most magnificent experiences, ones you are sure to treasure for a lifetime.

Travel connects everyone- to the world, loved ones and ourselves. It bridges differences and cultivates understanding and acceptance. It tantalizes curiosities and quenches desire for adventure and discovery. Everything at Crystal Cruises is designed to evoke a sense of astonishing wonder, from the surprising thoughtful touches by Stateroom Attendants to the authentic experiences you enjoy ashore.

Aboard the two highest-rated ships in the world, Crystal Symphony and Crystal Serenity, you will discover the hallmarks of Crystal... extraordinary service, abundant space, exceptional quality and incredible choices. This is the Crystal Difference. A steadfast commitment to excellence has earned them unprecedented recognition as the World's Best for an incredible 21 years – an accomplishment unmatched by any other cruise line, hotel or resort anywhere in the world.
Life On Board

Crystal Society
A Crystal Society Hostess is on every cruise to welcome first-time cruisers into the Crystal Society and to acquaint members with all the benefits and rewards of being a part of the Crystal family.

Crystal Adventures Shore Excursions
Crystal Cruises offers choices for every member of your family.

Behind the Smiles - Crystal Staff
Crystal's service credo is that serving and respecting fellow employees is as important as the care of guests.

Cruise Protection Plan
The Cruise Protection Plan ensures peace of mind.

Crystal Celebrations- Family Reunions & Weddings
Any Crystal cruise is a perfect opportunity to celebrate your special occasion.

Theme Cruises
Combine your love of travel with your favorite interest for rare experiences of enriching discovery.

Wheelchair Access, etc.
Wheelchair access, use of scooters & power wheelchairs and facilities for the physically challenged.

Meetings & Incentives
Crystal Cruises provides great value in comparison to land-based options for corporate meetings.

Dining
featuring the cuisine of Nobu Matsuhisa and Piero Selvaggio. Crystal's unique and newly introduced Perfect Choice Dining gives you a taste of true freedom. Not only can you enjoy traditional Classic Main and Classic Late seatings, but with Open Dining by Reservation, you can also reserve a table in the Crystal Dining Room each night of your voyage – a different time, a different table, just for two or with newfound friends.

Programs

Crystal Spa & Fitness Center
The only floating spa designed according to Feng Shui principles.

Creative Learning Institute
Engaging, Enriching and Enhancing.

ComputerUniversity@Sea
Crystal's popular Computer University@Sea program is offered on all cruises.

Crystal Visions® Enrichment Program
Celebrities and special interest speakers share their life experiences and inside perspectives.

Junior Activities Program
Crystal Cruises' commitment to excellence and quality of experience does not end with grown-up cruisers.

Walk-On-Water WALKVEST
Build your sea legs with "Walk-On-Water."

Golf and Other Outdoor Activities
A wide variety of activites help you stay fit.

Crystal Wine & Food Festival
The world's greatest chefs and wine experts join Crystal Cruises on Crystal's popular Wine & Food Festival sailings.

Crystal Casino
Crystal Cruises offers exciting games of chance in the new Crystal Casino.

Entertainment
Crystal offers a variety of evening entertainment options.

Crystal Social Media
Follow Crystal Cruises on Facebook and Twitter.

Nordic Walking Program
Crystal Cruises is committed to offer fitness-minded guests a variety of innovative wellness programs.
MY STORY
THE FLEET
DESTINATIONS