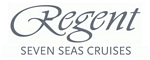 Regent Seven Seas Cruises®
You really can have it all. This is cruising as it was meant to be – a sumptuous world where every wish, every whim and every want is granted and where everything is included without exception and without compromise. Explore the world's most alluring destinations in complete comfort and elegance with an intimate group of newfound friends. Enjoy… it's all included.

Life On Board

The Most Inclusive Luxury Cruise Experience™
All-inclusive fares.

Accommodations
Your suite is a wonderful place to refresh, relax and plan your next adventure ashore, offering such a multitude of rewards and privileges as all accommodations are ocean-view. Within these serene havens of repose, guests feel immensely at home, as every imaginable amenity has been included.

Dining
One might expect to pay additional for the privilege of dining nightly on gourmet cuisine this extravagant, accompanied by exceptional wines and impeccable service, but rest assured, it's all included.

Personal Service
Highly personal service that anticipates every whim, giving you the freedom to experience the joy of travel while others take care of the details.

Privilege
Those who sail with Regent Seven Seas Cruises® are more than merely guests, they become part of the Seven Seas Society®, Regent Seven Seas Cruises® special family of past passengers.

Onboard Life
On just about any night aboard Regent Seven Seas Cruises® there are dazzling live performances, thrilling games of chance, romantic cabaret acts, hilarious Karaoke performances, plus dancing.

Programs

Spa and Fitness
Canyon Ranch SpaClub® becomes You.

Regent Seven Seas Cruises® Special Programs
We artfully combine a warm, friendly ambiance with the ultimate expression of elegant yet casual onboard pleasures.