Angie Wheeler
What is your favorite destination?
I love visiting Walt Disney World because while I am there, I let all of my worries go and just concentrate on being with my family and having fun with them. I also really like visiting Chicago. It has great places to eat, wonderful museums, incredible buildings and terrific shopping. The Smokey Mountains National Park is also a favorite. It was breathtakingly beautiful and I enjoyed hiking and exploring the nature all around me.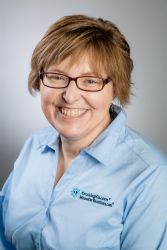 What are your favorite things to do while on vacation?
When I am on vacation, I like to explore, so that may mean a visit to a museum or a historic site, talking to the locals to discover a great place to eat or some other hidden gem. I don't always like going to the "tourist" area. I really like to soak up as much of the local area, as I can. I also enjoy some downtime to just relax and slow down to enjoy what is around me.
Why are you interested in travel?
I have always enjoyed finding out about new places and whenever my family or someone else would go on a trip, I would do the research and get the information. To me, part of the fun of travel is planning out what you are going to do and the more planning you do ahead of time, the more time you can spend later enjoying your trip.
What is your dream vacation?

What do you like best about working with CruisingCo.com?
I like that we are independent, but not alone. I know I can reach out for help or guidance at any time and it will be there. Everyone I have come into contact with has been so friendly and encouraging. It makes me feel I am part of something really worthwhile.